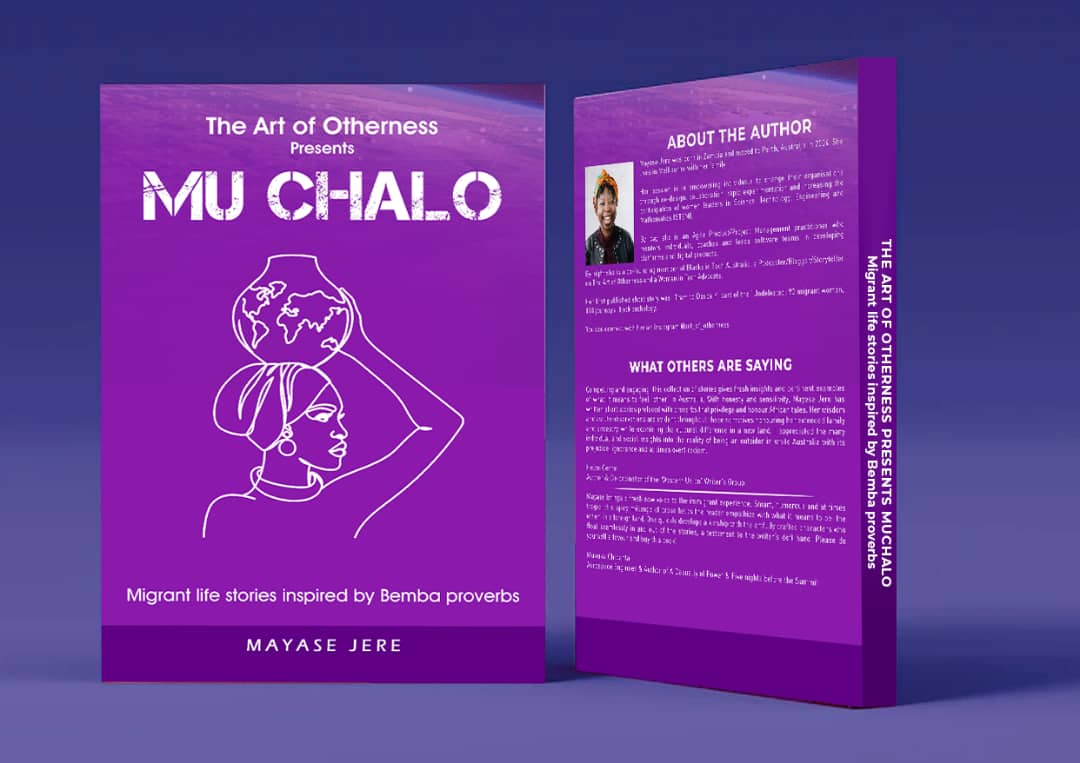 This is Author Mayase Jere's first book. She brings Zambian Bemba proverbs to life through stories of migrant journeys. Her early childhood was spent with her grandmother who loved using Bemba proverbs to chastise her. Some days, she feels as though she is losing her grandmother's teachings.
These stories, inspired by the proverbs, are Mayase's way of remembering her roots and sharing Bemba with the world.The stories may be fictional but they include highly emotional, disturbing, and at times light-hearted incidents that Mayase, her friends, and many others who have migrated from their home countries, experienced.
The common theme is everyone's migrant journey is unique – particularly here in Australia. Some are similar but with different sets of troubles, sorrows, financial stresses, and happiness sprinkled here and there.
This is a book not only for migrants but for those wishing to understand the challenges and courage it takes to pack one's bags and leave behind everything you have ever known.
---
What People Are Saying

Mayase has written short stories prefaced with proverbs that privilege and honour African tales. Her wisdom and astute observations are evident throughout these narratives honouring her extended family and ancestry while examining the cultural difference in a new land. I appreciated the many individual and social insights into the reality of being an outsider in white Australia with its prejudice, ignorance and at times overt racism.
Helen Cerne
Author & Co-ordinator of the 'Western Union' Writer's Group
Mayase brings a fresh new voice to the immigrant experience. Smart, humorous and at times tragic, this spicy mélange of prose helps the reader empathise with what it means to be 'the other' in a foreign land. One quickly develops a kinship with the artfully crafted characters who float seamlessly in and out of the stories, a testament to the writer's deft hand. Please do yourself a favor and buy this book!
Mukuka Chipanta
Aerospace Engineer & Author of A Casualty of Power and Five Nights Before the Summit
Mayase is a natural storyteller, and The Art of Otherness is like no other book you will read. It is uniquely narrated, and the stories are strangely addictive. After reading one, you will be thirsting for the next. And when it is finished, you'll be left wanting more. But if you comprehend on a soul level what Mayase is endeavouring to say, it will change you for good.
Richard Dove
Poet, Author of Us Karen & The Promise
I really enjoyed reading Mu Chalo and could connect to it very well. It was like remembering some of my childhood days as well as my early days in Australia. We have some of those or similar proverbs in my mother tongue as well. I know, the book says it was like your autobiography, but I hope you didn't have to go through some of those nasty comments/situations. I couldn't be normal quite for some time after reading the book and I would say it has a profound impact on me. Thanks for writing and sharing the book with me. You should keep writing - Sujatha